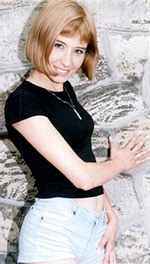 WELCOME TO DaisyBride MARRIAGE AGENCY!
TO MEET ANY LADY FROM OUR WEBSITE, PLEASE CONTACT OUR OFFICE!
phone: +380503336546 or +380990155498
e-mail us: daisybride@gmail.com
TO RENT APARTMENT IN THE CENTRE OF KIEV:
www.daisybride.com/apartments.shtml or www.daisy-apts.io.ua/album
TO HAVE INTERESTING CITY TOURS: www.daisy-citytour.io.ua
ИНФОРМАЦИЯ ДЛЯ ДЕВУШЕК: http://daisybride.io.ua
NO MEMBERSHIP REQUIRED TO USE OUR SERVICES!
FULL TIME OFFICE UP THE STREET FROM McDONALDS ON INDEPENDENCE SQUARE, MAYDAN!
INTRODUCTIONS WITH THE LADIES FROM OUR CATALOGUE ARRANGED THE SAME DAY!
Hello, my name is Yana Chobitok, I am the owner of Daisy Bride Marriage Agency, located in Kiev , the capital of Ukraine.
I have been in matchmaking business since the year 2000, and I run my own company since January 2003. We have been very successful and I am proud to say that we have had so many marriages!
Couples that we introduced to each other are happily living now in the USA, Canada, the UK, Germany, Switzerland, Italy, Norway, Australia, France, Monaco, Germany, Turkey, Spain, Portugal, and other western countries.
Hundreds of educated and down-to-earth Ukrainian Women in Kiev, Ukraine selected from many applicants are waiting to meet you! These Ukrainian women are seeking romance and marriage with Western men of all ages in our marriage agency.
ALL LADIES THAT WE REPRESENT ARE LIVING IN KIEV AT THE MOMENT.
Daisy Bride marriage agency is one of the oldest agencies in Kiev, Ukraine. We are not the biggest – but this is simply because we ARE updating our ladies profiles regularly, removing those who are married/ dating someone/ engaged/ in process obtaining fiancé visa/ no longer interested/ has relations/ not serious or reported as scammer.
It's easy for us to check on ladies because almost all of them live in one city, Kiev, where our office is located, not spread all over the country which makes it literally impossible to control!
We have 800+ of genuine ladies in our active database, and as for the Jan, 18th 2008 we have 2545 ladies in our hold back catalogue!
Daisy Bride Marriage Agency is based in Kiev Ukraine.
I don't think it is a good idea to correspond with Russian and Ukrainian Women from all over the former USSR? You will have to write to Ukrainian and Russian Women spread over thousands of kilometers! It will be basically impossible to coordinate a trip to see more than 1 or 2. You can come to our Ukrainian marriage agency in Kiev, Ukraine and easily see as many Ukrainian women as you want in one marriage agency.
All of the ladies who join our agency have been met by our staff. We examine their documents and consult and interview them in detail. I have personally met almost all of them.
We keep in contact with these women constantly and they are available for introduction by our highly professional and friendly staff in Kiev.
Come to Kiev and you will see the difference! Come and let me help you. I will be glad to help you in any way possible. I truly would love to introduce you to your future Ukrainian wife. Please feel free to contact us or e-mail me personally, I DO reply my e-mail within 24 hours :)
My best regards,
Yana Chobitok